A few decades ago, maybe four, a good friend experimented with LSD for several days in a row. His experience culminated with an epiphany while walking into the sunset where the sun took the form of the face of Christ.
Upon returning to work, he told me of his experience, said he would not return to his worldly past, and gave me his only John Prine album, "John Prine". I learned this entire album. I then went down to our local music bar, the historic Old Town Grain and Feed, Ft. Smith, AR, and auditioned with one original and a John Prine set. This little family-owned bar and grill in it's heyday, played host to the likes of The Ventures, Dizzy Gillespie, Willis Allen Ramsey, Crow Johnson, Trout Fishing in America, Lucinda Williams, and…me. The rest should be history and in a "long way around sorta way", it is. That first night, well… I worked really hard on three 45 minute sets. Built the list, tuned up and showed up. There was plenty of excitement as one of the bar's most popular patrons was also a huge John Prine fan and was present during my audition. He brought the  crowd. The buzz was "Come on down and here this great John Prine cover guy!" That equals pressure.

 My panic was immediate as I couldn't figure out why I couldn't get the sound system to work. The barmaid called a local rocker to come down and help. Meantime, folks were getting impatient and drunk. Me too. When the guy showed up, he looked around, checked some cables and connections, reached around back and flipped the switch. He grinned and asked me to play a song while he mixed and set the sound levels. The crowd was really into it, very nice to me. Then he whispered for me to step over to him. He explained that I didn't have the sound on, showed me the little off and on toggle switch, gave me a 30 second lesson about mixing and a pat on the back. I bought him a beer and set down to play. That man was the late Dick Renko, who's family band, David and the Immatures, set the pace for his prodigious son, David, to go on to music fame as the Sax man for The Cate Brothers. Dick went on to manage Trout Fishing in America, taking them all the way to a Grammy nomination. The rest should've been history, but in my embarrassment and excitement, I sat myself on the tall stool, guitar in place and realized I'd left my set list on the floor, out of my vision range and useless. I was too iced to get it and try to figure out where to put it, so I just started playing song after song. John Prine, Norman Blake, Roots traditionals and some of my own. I've never used a set list in a solo set since. I learned to just roll with it and play what I love, many of my own songs too.
I learned to speak and be a part of the audience. That's what I do when I perform. I have fun. I'm spontaneous and I really don't know what I will play next. Oral stories pop out at random. I specialize in Story Songs.That is how my history as a performing singer-songwriter started- probably why I never sought commercial success and surely why commercial success never sought me. It's all good. If it ain't fun, I ain't doin' it.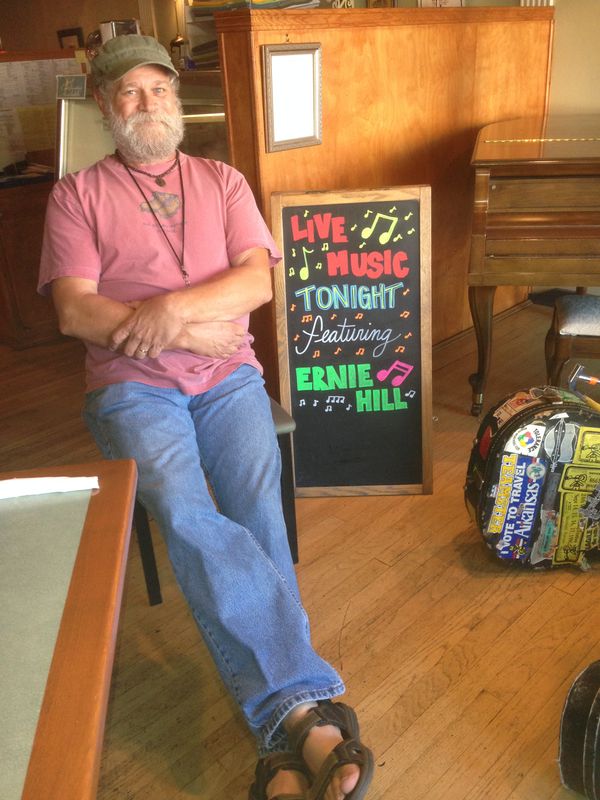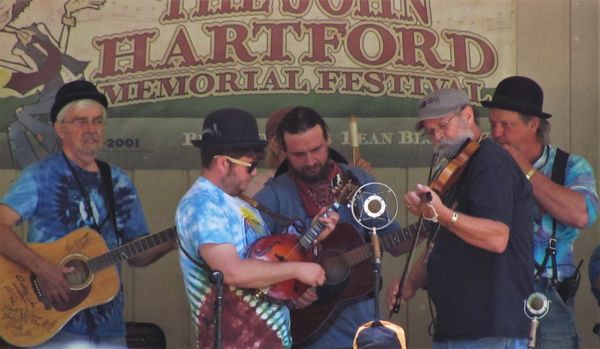 Unlike most performers who play festivals, listening rooms and bars, I do not do this for a living, but I have paid bills with music. I have busked on the street for gas money more than once. I am not one of the millions who are grinding it out to earn a top billing. I have searched and found my place in this busy, crowded world of music and words and I am content to stay my course. I am now retired from the work force and I am finally free to consistently pursue my Muse.
I am one of those who write because the Muse likes to bug me when I'm trying to concentrate on something else. My approach to songwriting begins with an often distracted and open mind. The melodies and lyrics are not structured or forced. When they happen, I grab a recording device or writing device and put the thoughts down. Sometimes they are complete, sometimes I mull them over and build on the model. Sometimes they come so often and fast, I file them away and work them later.
When I teach a workshop, do not expect me to get the participants to build a song, rather, expect me to probe your mind to help you find that creative spark, and go from there. Expect me to help you determine whether or not your gift lies with lyric and/or melody. This is the basis for my little Muse book, "The Cosmic Path to Melody and Lyric".  This book seeks to explain creativity and define, in my opinion, the Muse. I hope you check this book out.
I perform because I write, because I have a ball, and because I like to interact with an audience, whether it's a room full of seasoned music lovers and/or critics, or a room full of kids. When I play your venue, don't expect a polished, ego driven perfectionist. Expect a plain old fun loving songwriter who would have just as much fun on the porch with some friends, as he would at Carnegie Hall. (you know, in the audience?)
When you come to one of my performances, expect to become part of it somehow, whether you identify with a story that pops out, or whether we actually engage in a discussion, or a sing-along. I like the audience to help me out from time to time. I don't put on a "show". I have a musical visit. My motto? "Be fearless and don't take yourself too seriously". 
My music is recorded at home. I'm a songwriter. There's no reason for me to launch a "fund me" or "kickstarter" campaign to go in and produce an elaborate studio recording. I'm going to come out sounding pretty much the same- vocal and instrument whether it be guitar, fiddle or mountain dulcimer and occasional keyboard. Some of my music is free at my website but there is a tip jar at the bottom of each page. Tips help me keep the site going and make it easier for you to download my music and stories. C'mon and have a look around my website and please consider booking me for your event.