David Bragger
Big Fancy
Old Time Tiki Parlour 004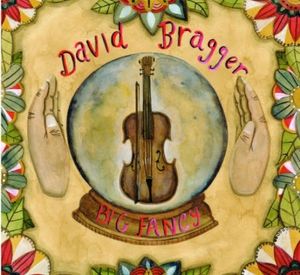 Tommy Jarrel, Benton Flippen, Blind Ed Haley, John Hartford, Clyde Davenport, Earl Collins, Edden Hammons, Melvin Wine, Dennis McGee, Gene Goforth. All of the above are synonyms for greatness when it comes to Old Time Fiddle. David Bragger will soon be included in this list if not already. David Bragger is an incredible Old time Fiddler and instructor from the hills. The hills of North Los Angeles. It was several years ago, while I was playing in an Old Time string band, primitive fiddle, that I discovered just how inept I was (am). I began searching YouTube just to see what it had to offer. I ran across a jillion really good Old Time fiddlers, then I saw this guy, arms heavily inked, flat cap, awesome fiddler. I thought, "Okay, so here's another violinist turned fiddler so I'm not going to learn anything here. David Bragger. Let's see if he's on MySpace." Remember MySpace, the ancient pioneer of Social Media? He was there. "Daemon Fiddler." Exactly.  An Old Time Paganini. I followed David's YouTube videos when I could, right on into the FaceBook Era, and sent him a "friend" request. Turns out he is not a classically trained violinist, and had I followed my first impression, I would've missed out on one of the most interesting and talented folks I've ever met. I am a curious person and David is fascinating one, so through correspondence and mutual desire to help other musicians, I feel like we have become friends. David has just released, his first solo CD, Big Fancy, a collection of Old Time Fiddle Tunes.
This is David's first solo CD. It's been a plan for several years. David is no stranger to the music he loves. Along with friend and student, Rick Hocutt, the two are involved in filming, recording and producing DVDs at David's home studio, The Old Time Tiki Parlour. Visit the website to learn about this adventure in preserving the most notable traditional music icons living today. This is not David's first recording at all, but his first solo. David Bragger recorded old-time fiddle and banjo for Greg Graffin's "Cold as the Clay" album on Anti Records, and even recorded fiddle on a Bad Religion album! David has a background in film and audio production having worked on such projects as the Addams Family and AMC's Freakshow. He also produced a documentary on American Tattooing. David produced the first CD of his old-time/jug band, Sausage Grinder, in which "I play a lot of fiddle, mandolin and even a guitar track. As Sausage Grinder, we've played the Portland Old-Time Gathering, the Los Angeles Old-time Social, the Topanga Banjo and Fiddle Contest and the Goleta Old-Time Fiddlers Convention, along with a ton of private Hollywood gigs and dances. I've also played old-time fiddle and banjo for various indy film projects and television shows. Recently I did a bi-coastal tour with Greg Graffin and am planning on collaborating with him next year on his solo CD if I have the time!" Why Old Time Fiddle? Why not swing or bluegrass? David told me, "Old Time music and its plethora of sub-genres contain everything I need and love musically. The rhythms, drones, syncopations, crooked melodies, strange and beautiful harmonies, regional styles, individual styles, tunings, lyrical themes, histories and folklore capture my imagination and inspire me every time I pick up an instrument to play or teach. It's a genre of wonderful variants resting on a common foundation." David makes his living primarily with teaching fiddle, 7 days per week, when he's not busy with filming and
recording. "Most of my students are worldwide. I don't actively advertise. The teaching thing started happening by word of mouth. The out of state and international crowd started picking up on my instruction through the occasional YouTube videos that I would post." David's strength is in teaching bowing. Having taught well over 10,000 lessons, David can pick apart bow patterns, rhythms, bow rocking, and call out bow directions with great ease. "It has become totally intuitive and hard-wired. That kind of thing was really important to me when I started learning. It was hard to find somebody that could articulate what they were doing, or what fiddlers like Tommy Jarrell and Edden Hammons were doing. So I made it a goal of mine to learn their bow styles, find patterns in their playing, find shared patterns in the playing of a variety of fiddlers, and then develop the ability to teach it in a clear, concise way. So although I teach old-time banjo daily (along with some mando and guitar), the bulk of my students are fiddlers who are starving for those southern bow sounds!" Big Fancy is a the realization of a dream project for David. David has poured much energy and time into producing, recording and archiving great traditional musicians.
 It's time for David to be appreciated in this other light, for what he loves to do and for what he is a master at, and that is play the tunes he loves on his favorite instruments. Fortunately for us, David made this record. "This project is something I've been pondering for a long time. After years of playing and teaching, I grabbed the fiddle and imagined an album." David said. David is accompanied by Christopher Berry- guitar and banjo, Susan Platz , second fiddle, and Tim Riley on Scottish Bagpipes (great moving rendition of "Washington's March"). Big Fancy is 21 obscure fiddle tunes. The CD jacket is pure folk art. Each track is thoroughly explained complete with the alternate tunings used. Over the years I've become a moderate collector of Old Time fiddle music. I recognized several tunes on BigFancy, none of which were a note for note rendition. That's the beauty of Old Time Music, bastardization and the folk process. Tunes change a little from player to player, from year to year, from decade to decade and that's okay, that's how it works, that's how it's always been. Unlike competitive banjo or guitar, which stays true to the melody the first time through, then embellishes the next time through, then becomes Jazz until you can't recognize the tune at all, Old Time music stays true to the melody all of the way through, changing only with the mood and memory of each fiddler.Of course, David is spot on with intonation, and all of the mechanics of master class fiddling. You know how you can listen to your favorite genre of music, get all revved about what you are going to hear, then, a few measures into the tune, you realize you weren't listening? The music didn't hold you. It is rare for me to listen to an entire album and not have this happen with at least one, sometimes several tunes, even though I am familiar with the artist and love the particular tunes. It just happens. Anyone can succumb to what I refer to as "spiritual monotone". The spirit is in the heart of the performer, but fails to translate to the listener. David Bragger is a street magician. He filmed and followed street magicians in India, a trip that was loaded with awe and danger, for one, it's illegal to perform street magic in India. It was after returning to the States that David took up fiddle.  
I'm not saying David is applying magic to his fiddling. I do not know a thing about sleight of hand, illusion, but I do know it takes a special kind of focus. I know David Bragger's soul snakes itself out of his core, like a Cobra being charmed from a basket, and this soul does indeed find it's way to that fiddle bow and that fingerboard. You will have no trouble experiencing this manifestation, especially if you "know how to listen to a fiddle tune". If you are new to this fascinating trip in music, listen to one song several times in a row. With each listen, you'll hear something you didn't hear the previous time. Is the music breathing? Is it sighing? Is it screaming? Is it telling you to relax? Yes. With the fiddle, it's in the bow, and David Bragger is the bow man of our time and by that, I mean David has gone way beyond the norm to learn bowing having travelled extensively to study with some of the above mentioned masters. Watch the video again and pay close attention to Davids bow arm. It's funky phenomenal. I encourage you to give Big Fancy a spin. I encourage you to find David's fiddle lessons on YouTube and watch in amazement as he plays a tune, then picks it apart, telling you each bow direction as he plays. It's not all back and forth. It's technique, and like Jazz, it is not random and happenstance. Bowing done right is calculated. You can own Big Fancy right now, by visiting oldtimetikiparlour.com.


                                   David fiddling and teaching "Davy Come On Back and Act You Ought To."
                              
Ernie has written for the roots music site,
nodepression
and has penned articles for iFiddle Magazine among many other notable projects. For over 20 years Ernie has helped songwriters with melodies and tunes, helping the artist hone their craft and with this site he's continuing his work of helping musicians, songwriters, poets, authors and folks in general by offering his services at very reasonable rates and bartering. The times Ernie has written for my magazine are the times it's gotten the best reviews and most comments. Ernie is a cosmic poet, author, fiddler, songwriter, wordsmith and lover of the arts and music. Ernie can not only enlighten you with his insight and vision, but he may be able to help if you need his most excellent services. Peace, Mike Spears
iFiddle Magazine