I first met Lizzy Plotkin at the 5th John Hartford Memorial Festival, 2015 Songwriter's Showcase. Lizzy placed 2nd with her song "Crooked Child" (click to hear this song) and performed with Free the Honey. At JHMF8, in 2018, Lizzy and Natalie Spears performed as a duet and introduced us to a fresh and original approach to Americana/Roots music. Now, two and a half years later, both Natalie and Lizzy are as concentrated as ever as musical soul-mates, performing artists and instructors. These two have combined their gifts to release a debut EP, "Just Over the Ridge". This tastefully mastered recording gives us 6 original songs, beautifully performed. They are joined by Courtney Hartman( Della Mae) on tracks 3 and 6. This album is rich! Their marriage of vocals and strings flows steadily and gently from one tune to the next. Just who are Lizzy Plotkin and Natalie Spears?
"Born and raised in the heart of Washington DC, Spears took after her father, a Jazz and Classical pianist, and began playing piano at age five. By fifth grade she was schlepping her upright bass on the school bus, playing saxophone in her school band, and taking drum lessons. Music fell by the wayside after high school but in her early 20's, Spears stumbled upon American Roots music. While playing bass in an Old-Time string band, she became enamored by the driving rhythm of the clawhammer banjo, and since then, has dedicated herself to learning the instrument and its history. 
Her past projects include the Carbondale based band, Pearl & Wood. The band released their debut EP, Pearl & Wood, back in the summer of 2019. As a multi-instrumentalist, Spears also plays with a variety of bands spanning a range of genres. She has toured throughout the United States and has performed at the John Hartford Memorial Festival (Bean Blossom, IN), Blackpot Festival (Lafayette, LA), and Mountain Fair (Carbondale, CO) to name a few. Spears has also shared the stage with seasoned musicians like Peter Yarrow, Drew Emmitt of Leftover Salmon, Red Molly, Martha Scanlan, The Railsplitters, and many more." Read more about Natalie at http://nataliespears.com/welcome 
Lizzy grew up in Nashville, Tennessee, as her mother would say, "Learning music in utero". Her father, Stephen Plotkin, who grew up in Pittsburg, PA moved to Nashville to be a professional musician in 1978, after his time at Berklee College of Music during the advent of the jazz strings program. He quickly landed a job touring with the Stella Parton band and making a go of it in the hay-day of Nashville's Country music scene. Stephen passed on after battling cancer when Lizzy was two. At age four, Lizzy asked to take lessons and her mother enrolled her in a Suzuki class. Lizzy says she has not put the fiddle down since.
"Lizzy Plotkin's place-based songwriting and fiddling is as exuberant as is it graceful. With reverence for the natural world and a humble, yet wise human perspective, Lizzy shares with listeners her joy and connection through original story, melody and voice. The sounds of Appalachian fiddles and banjos enliven Lizzy's music, while she is equally drawn to the groove of old-jazz, blues and swing. Seamlessly combining a rich heritage of musical influence, she has sewn a folk fabric of her own. In 2012, Lizzy co-founded Colorado folk trio Free the Honey, released three records, reached #1 on the folk dj charts with their album Fine Bloom and performed nation-wide until 2016. In 2012, Lizzy co-founded Colorado folk trio Free the Honey, released three records, reached #1 on the folk dj charts with their album Fine Bloom and performed nation-wide until 2016.  As a guest instrumentalist, she has performed with a number of electronic, blues, jazz, bluegrass and country outfits such as The Polish Ambassador, Martha Scanlan, Drew Emmit Band, Ragged Mountain Bluegrass, Pure Prairie League, Gypsy Jazz Social Club and Trout Steak Revival . She lives full time in Almont, CO where she is an active community member and music instructor.  Lizzy released her debut solo record We Will Sing on March 8, 2019 and has been performing solo and with "the Virginia Boys" (Matt Lackey and Dwayne Dodson).
Read Lizzy's complete bio at https://lizzyplotkin.com/bio/
"Just Over the Ridge"- I have had it on loop all morning. Each of the six tracks are fresh with hints of timeless inspiration. Friends, in this practically immobile time of pandemic and unrest, musicians, like all folks who directly deal with live human contact situations are doing what they can to survive. Both Lizzy and Natalie entered this chaos with a slate of students and they have adapted to virtual teaching. You can access these classes at both of their websites listed above, just scroll the menu. Tonight, Jan 15th, tune in for a live streaming performance  at Steve's Guitars at 7:30 PM MST/9:30 PM EST/ 6:30 PST. https://www.youtube.com/watch?v=wW6EHOexxNw
Also check out their other performances at YouTube and follow Lizzy Plotkin and Natalie Spears, as a duo and individually on FaceBook.
My curious mind directed my bony fingers to the keyboard to ask several questions to Lizzy and Natalie. Here's what I got.
EH- At what point in your life did the light go off that told you "Wow! I wrote this! I am a songwriter!"?
 LIZZY: When I started making music with my friends Jenny Hill and Katherine Taylor as Free the Honey, we had weekly practices. I had only penned a few songs and maybe a tune or two, but we were putting so much fun and energy into each other's songs no matter how fresh or meager the idea, that it really validated the concept in my head that I had songs worth singing. It was then that I knew it would be something I could enjoy doing for the rest of my life.
 NATALIE: I took a long break from music after high school and didn't start playing again until my early 20's when a friend asked me to play bass in his band. All of a sudden I was playing bass for folks that were writing original music and I was inspired to try my hand at it. I picked up the banjo and started arranging some of the poetry I had written to music. The chords and melodies seemed to fit well with my writing and it was then that I realized, I too could be a songwriter.
 EH- Tell me about your process- do you:
  A. make yourself write
  B. believe the tunes come from thin air
  C. write melody first then lyric or is it random
  D. feel the need to write so strongly that you "tune borrow" out of inspiration, or necessity, or to meet goals?
NATALIE: My process changes a lot. There are times when I feel so inspired and songs ideas flow easily. When I'm not inspired, I try to make myself work with song ideas I've collected and massage them until they begin to take shape or I do songwriting exercises from books. 
Sometimes I'm able to sit down and a whole song will come out. 

I write from many angles, lyric, melody, groove, and harmony. I play bass, piano, banjo, and guitar and find that each instrument brings out something different in my song writing voice.

Yes at times. 
LIZZY: 
YES

Sometimes. The thinner the air the better! :)

These days, I am writing a lot of melody first and then trying to play the chords and hum the melody enough to get a sense what it might be asking me to sing. But ideally, the words flow and help shape the melody.

I like tune borrowing sometimes - more for practice. I actually have written some of my best poetry in the back of the tour van while other music is blaring. It's like the muse is loose and I'm just running along with her.
EH- Do you collaborate?
Natalie- We mostly write alone then bring our music to the other person to arrange but we are beginning to experiment with bringing unfinished song ideas to the table to work on together. 
EH- What advice do you have for emerging songwriter/musicians?
LIZZY: One of the things that I learned early on that helped me is to distinguish in my mind two different characters: the creative/inspired mind and the editor/judging mind. If you can identify these two, then you can help control when you want to bring them into play. For example, closing the door to the editor when you are simply creating is really important. The editor and judging mind is important but only when the song is ready. Leave lots of space for the creative to go for gold. If you are in a space of inspiration - stay there! Write seventeen verses if you can. There is always time to edit later, but inspiration is a bit more precious.
EH- Where were you with your careers when pandemic hit?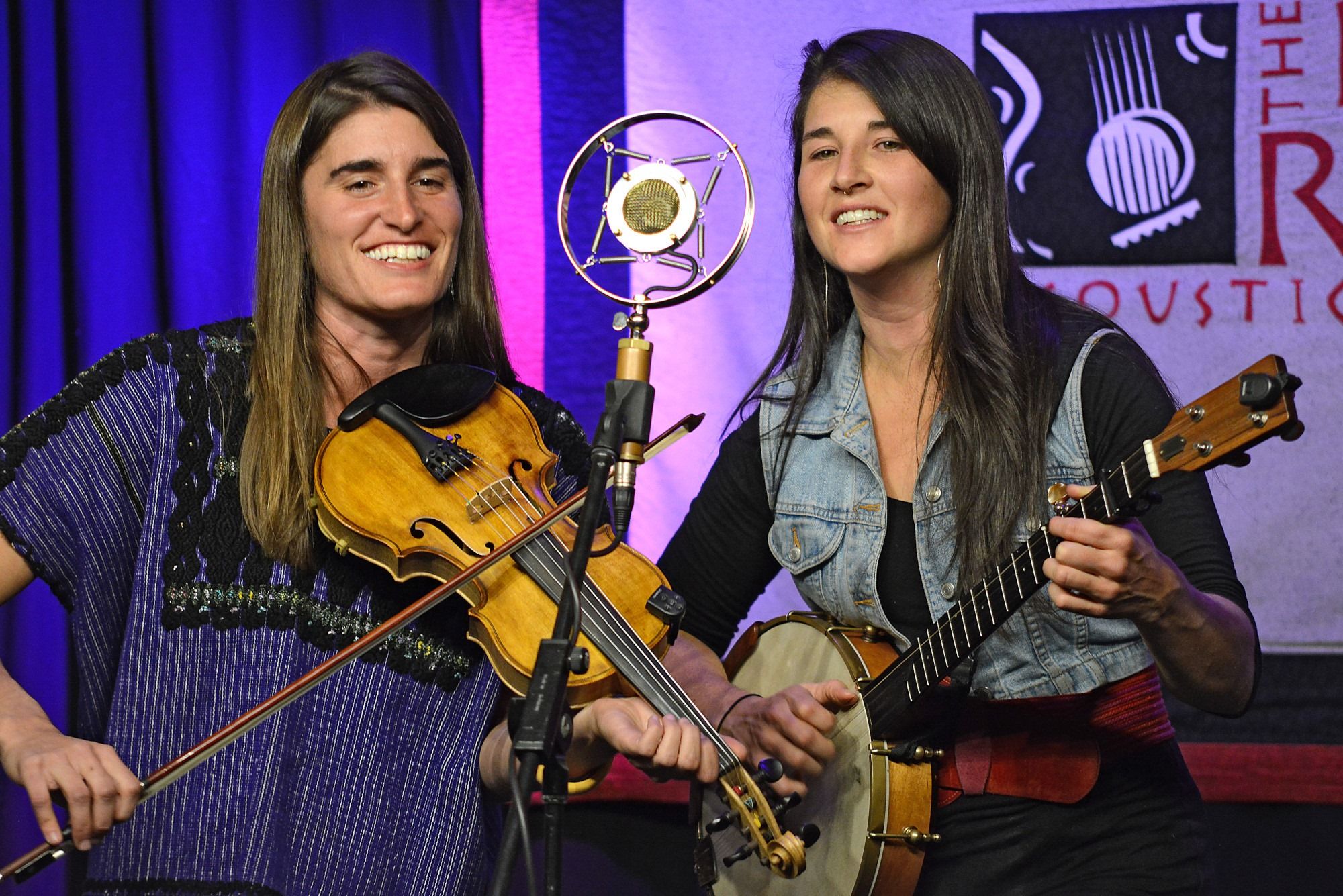 LIZZY: I considered myself pretty lucky when the pandemic hit because instead of having a lot of shows I had to cancel, I was not really touring at the time. I had put most of my eggs in the music education basket, which still took some maneuvering (going online) to figure out, but at least I had work! 
 NATALIE: I am also a private music lesson teacher and I was able to take on my students to compensate for the lack of gig income when Covid showed up. Teaching was so grounding for me in those early days of the pandemic. The whole world felt upended but it was a relief to have some weekly routine and connection with people through music. 
EH- How are you dealing with it now? Do you perform in safe venues only? What is your approach to booking now that restrictions are in place?
LIZZY: I have not performed inside for a group of people anywhere since the pandemic started. I have done some outdoor shows, busking, and a few livestream events. I don't think I'll be ready to perform inside for a group until most of my community is vaccinated. 
NATALIE: What Lizzy said. 
EH- Do you have day jobs?
LIZZY: I am self-employed teaching private music lessons. 
NATALIE: Same.
EH- Why "old time" as genre? What drew you to it? 
LIZZY: It was actually at the John Hartford Memorial Festival when I experienced my first SUPER jam! There was nearly 30 people layered in circles around the same fire playing a tune all together. I remember thinking that old-time music was way cooler than I had thought before. It seems to have a pulse to it like the human heart. It makes us dance, and keeps us together. There are so many other reasons I love it like its connection to our history as a country, and more.  
EH- Where do you take it from here?
NATALIE: We are excited to work up some new tunes/songs and create new music. Releasing an album requires that we spend a lot of time wearing our "business" hats and we enjoy that part of the process but we are definitely ready to shift gears and get back to what we love which is creating and playing music. 
EH- What are your opinions about live streaming and online lessons as a revenue stream, and as a venue?
LIZZY: I'm not a huge fan. I think there are definitely people who are making the most of it. They were before the pandemic, too. But it's not my preferred method of performing music or teaching. I think it has the ability to both help us connect, and also take away from the connection that is so inherent in music. A paradox.
EH- What are your musical backgrounds- are you self-taught, or classically trained?
LIZZY: I have been playing the violin since I was 4. I was trained in the Suzuki method which emphasizes ear-training and classical technique. I took private lessons until I was 13. And then in high-school was lucky enough to have a very good orchestra program (Hume Fogg Academic in Nashville). I even got to play as a musician in the pit orchestra for our high school theater productions. I decided not to study music in college as I was ready to focus on other things. That slew of experiences I got growing up in Nashville gave me all the tools I needed to pick-up tunes and songs when I got to Colorado and found the pickin' circles here. I also played gypsy jazz in a band here with a man named Les Choy who taught me some jazz theory and helped me advance. Lots of other mentors and teachers showed up along the way to help me to where I am now. 
NATALIE: My dad was a Jazz and Classical pianist and music was present in my life from the day I was born. He started me on the piano at age four. My school required that all kids pick up an instrument in the fifth grade so I chose the upright bass and spent years schlepping it on the school bus. I continued playing piano, bass, and sax through school but quit my sophomore year to focus on sports. Music fell by the wayside until my early 20's when a friend asked me to play upright bass in his Old-Time band which was the first time I'd ever really learned how to jam and play by ear. That was also my first introduction to American Roots music. He happened to be a clawhammer banjo player and I became enamored by the union of rhythm and melody that emanated from that instrument and started teaching myself how to play. Up until that point I had been scared to sing in public but those early days of playing in the Old-Time band and starting to write my own songs gave me the courage to sing out. 
EH- Where all can folks access your music and how can they purchase your cd?
Natalie- They can find us on our website: Lizzyandnatalie.com on Facebook: https://www.facebook.com/LizzyandNatalie
People can purchase the CD by going to our website or to https://lizzyandnatalie.bandcamp.com/
Lizzy- The music is also available via all streaming sites including Spotify, iTunes/Apple Play, Amazon Music etc… 
EH- Opinion-  cds and vinyl vs downloads. Where is the future of recorded music for the independent non mainstream musician.
LIZZY: I really like the platform that bandcamp offers. I think it appeals to people who are "collectors" of music and they have shown through research that even though music might be free to stream other places, if you give fans an option that's appealing like the bandcamp app, they will spend more (even more than your chosen price) on the music they want. So, I'm hopeful that platforms like bandcamp will become more normalized. I also love vinyl and think it will be cool for a very long time coming. So, hopefully I can print some of my music on a record at some point in my career. 
EH- Just one more thing to ponder, are you two self-promoted? If not, who represents you, and if so, how do you get yourselves out there?
LIZZY: We are self-promoted and really value all the relationships we have made with the people behind the venues, festivals and house concerts that we play. 
                                                                                                ###
I give six out of five stars for Lizzy Plotkin and Natalie Spears "Just Over the Ridge". Folks who know and play string music will appreciate the layers and textures woven into each track, along with smooth and easy vocals and harmonies.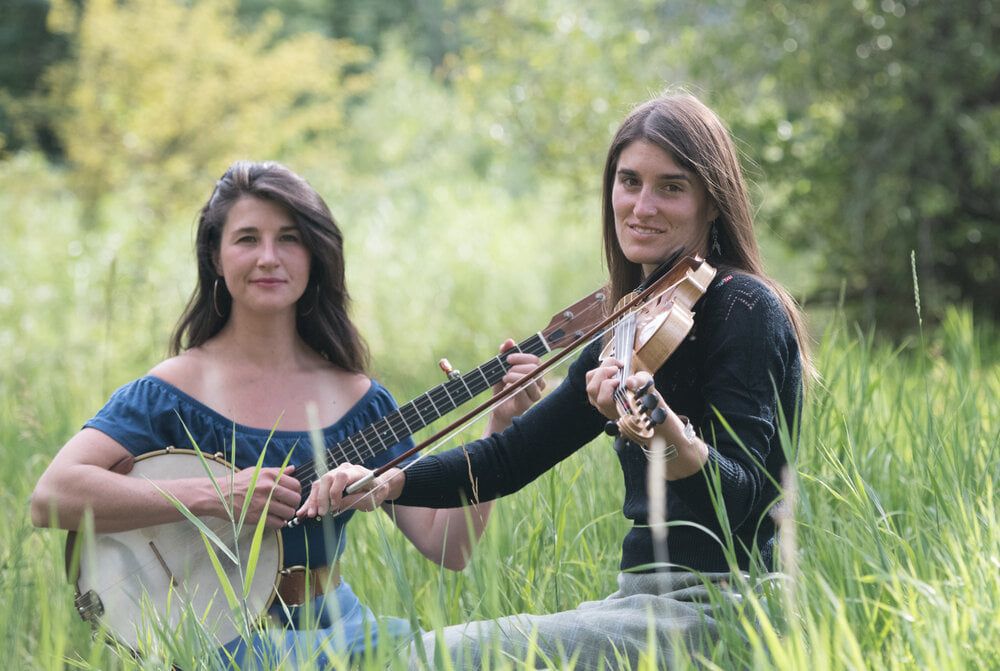 While I love each track, and Natalie's Tennessee is bound to be a chart topper, certainly is in loop in my mind, my old-time heart is fed righteously by Lizzy's fiddle tune, Through the Window. The deep tone of her fiddle, old time double stops, fresh runs and melody, so masterfully accompanied by Natalie's melodic and creative clawhammer banjo pay complete tribute to our mountain music, and also give you a great idea of what you'll hear when you see these ladies live. Folks, this recording is rich!