STORY SONGS WITH ERNIE HILL
 While thinking about events for the 2015 John Hartford Memorial Festival, I came up with this concept purely out of curiosity. What if I selected three or so songwriters who specialize in story songs, and host a presentation/panel discussion consisting of original story songs and individual processes? The idea being, give the audience (and me) an idea about the individual creative process. I have an idea how mine works and I am curious to the extreme that I wrote a book about it.
 Story Songs Workshop is not a "hands on" workshop. It is a performance/panel discussion about creativity. Keep reading to learn exactly what this is about. "Story Songs with Ernie Hill" has grown in popularity as folks who love stories are given a look inside the heads of folks who "make them up". Since it's premier, Story Songs has grown in popularity and appearance, now being presented also at the Walnut Valley Festival, Winfield Kansas, and The Pickin' On Picnic held at St. Clair Mo! Guest songwriters include and have included Chris Jones and Gina Furtado of Chris Jones and the Night Drivers, Chicago Farmer, Ryan Spearman of the Short Round Stringband, Juni Fisher, Wil Maring, Colin O'Brien, Old Man Luedecke, Ginger Boatwright, Nathan Blake Lynn, Giri and Uma Peters, Micahlan Boney, Kenny Cornell, and Mike Oberst of the Tillers, Andrew Morris and Julie Bates (aka The Matchsellers), Alaina Hawf of The Whispering Willows, Bill Poss, Kelly & Donna Mulholan(aka Still On the Hill), Willi Carlisle, Lily B Moonflower, Xaris Waltman and Walter Greiner.
 How does it work? I start the set with an original story song and then open up a discussion. We pass it on down the line and in the time allotted we each perform original story songs with enlightening discussion.
 Aren't all songs Story Songs? Well, no. A large percentage of top 40 mainstream songs are "feeling" songs. Songs that express love or the opposite. A story song is just that. It tells a story, sometimes taking you to a different environment. It's that simple, but where do they come from? How does a songwriter "get" their story? That's what these sets are all about. It really is different with each songwriter. I've written a book, a short introspective look inside my own mind, the minds of a few others, and some research opinions. It's called "The Cosmic Path to Melody and Lyric". Click here to read more about it. This little mind journey is illustrated by the artist Jon Griffin. Please ck it out and consider talking with me about presenting this concept at your event whether it's a great big festival or a tiny intimate listening room. Email me at ernpick@gmail.com or find me on Facebook.
Story Songs 2021- The Walnut Valley Festival with Juni Fisher and Chris Jones!
Am I ever excited to be hosting this set, this year and sharing the stage with Juni Fisher and Chris Jones! Covid hit us all very hard. While it is still seeming to be rampant, folks are doing the wise thing and getting vaccinated. While everything could come to a grinding halt again, the plans are to move forward with the Walnut Valley Festival, Sept. 15-19, Winfield KS. 
If you have attended a Story Songs set, then you know it's a panel performance/discussion between songwriters, including me. I host and moderate. In a nutshell, we get inside each other's noggins and discuss the creative spark, while giving the audience some mighty fine songs, and helpful insight as to how this all comes about. Both Juni and Chris are Walnut Valley favorites and both have conducted workshops in Songwriting and musicianship. Chris is also the new curator of the Walnut Valley New Songs Showcase. This years Story Songs will be held on Friday,the 17th, Stage 3, at 9:15- 10:15 a.m. This set will be loaded with spontaneous conversation, songs, and commentary. Be prepared to take notes, laugh and cry! So...
Juni Fisher and Chris Jones are highly acclaimed and respected singer songwriter/musicians and authors with Juni having already published one novel, Girls from Centro, with another, Indelible Ink on the way, and several albums of original music. Juni was raised in a San Joaquin Valley, CA farming family, and was active in 4-H and FFA. While studying Equine Science at the College of the Sequoias she rode horses for customers and was captain of the college horse show team. She rode sale pens for extra money at a local livestock sale and earned honors at Intercollegiate and Quarter Horse shows. During college she began singing big band standards in a dance orchestra to pay for horse show entries. Her first Western release, "Tumbleweed Letters" (1999) reached Monterey Cowboy Poetry and Music Festival director Gary Brown in 2003. With his encouragement and endorsement, Juni shifted to music full time. Fisher has penned songs recorded by Rex Allen Jr., Joe Hannah (Sons of the San Joaquin,) Ranger Doug (Riders in the Sky,) Kristyn Harris, Devon Dawson, Judy Coder, Notable Exceptions, 43 Miles North, and others, and her songs have been in award winning film soundtracks most recently Out of the Wild.
Juni has received multiple awards for her talents including: 
2005 Academy of Western Female Vocalist of the Year
2005 WMA* Crescendo Award (*Western Music Association)
2006, 2009, 2011 WMA Female Performer of the Year
2007, 2011, and 2013 WMA Song of the Year
2008 WMA Songwriter of the Year
2008 Natl. Cowboy & Western Heritage Wrangler Award 
2009 WMA Album of the Year
2011 WMA Entertainer of the Year (first female ever to win)
2014 Western Writers of America Song of the Year 
2012 and 2017 True West Magazine Best Solo Artist
2019 Women Writing the West WILLA Award Finalist                                                                                                                                                                                                                                                                                            Chris Jones is a Bluegrass Icon, destined for legendary status. Chris is also a writer/journalist with a regular humor column at Bluegrass Today. Chris hosts Sirius radio's Bluegrass Junction for more than 15 years. He also hosts the classic bluegrass show "Truegrass.", and has also appeared in the PBS series "The Appalachians" as a both a performer and commentator.
  Chris Jones' "Fork in the Road" won the IBMA Song of the Year award in 2007, when it appeared on the Infamous Stringdusters' album of the same name. Today, Chris continues to build on his sparkling career by writing new songs that display solid craftsmanship, deep emotion, and inventive subject matter. As he has for the past two decades, Chris creates original bluegrass music that maintains the highest standards, lyrically and musically. He shows that it is possible to write directly from the heart in a way that is authentic to the roots of bluegrass as well as the contemporary world in which he lives. 
The ten songs he wrote or co-wrote on his latest album, The Choosing Road, can stand among the best of his long and distinguished career, and that is quite a feat. Bluegrass is fortunate to have such a dedicated, talented, and tasteful songwriter working in the genre, and still at the top of his game. 

International Bluegrass Music Association (IBMA) awards received:

2005: Album Of The Year (for his role in the Larry Sparks album 40)
2007: Song Of The Year (co-writer of "Fork In The Road" by the Infamous Stringdusters)

2007: Broadcaster Of The Year

2014 Print Media Person Of The Year for his writing at Bluegrass Today

2014: Best Graphic Design for Lonely Comes Easy (with designer Lou Everhart and Rebel Records)
2014: Broadcaster Of The Year                                                                                                                                           

Music instruction

1993: The Traditional Bluegrass Songbook book, CD (Musicians Workshop) ISBN 978-1584961246
1999: The Bluegrass Wordbook with Chris Jones book, CD (Musicians Workshop) ISBN 978-1584960874
2002: The Art of Bluegrass Rhythm Guitar with Chris Jones DVD (Musicians Workshop)
2003: Learn the Art of Bluegrass Guitar streaming video (Musicians Workshop)
2004: Bluegrass Guitar Solos with Chris Jones DVD (Musicians Workshop)  
Story Songs at the 9th Annual John Hartford Memorial Festival with The Matchsellers, Bill Poss and The Whispering Willows ! Full Set courtesy of Troy Phillips.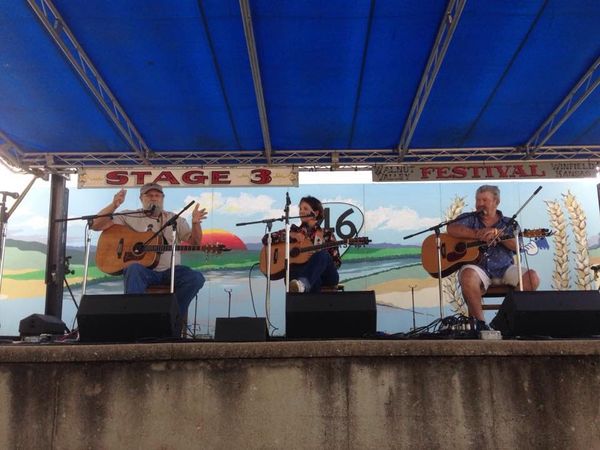 Left to right- Ernie Hill, Ryan Spearman, Cody Diekoff a.k.a. Chicago Farmer
To read more about past Story Songs sets, click here.