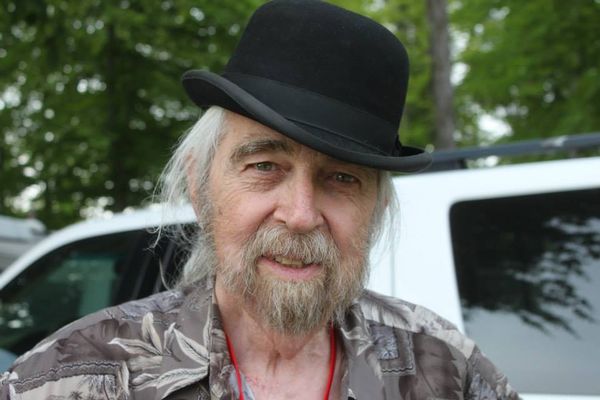 The following article was written around April, 2012, leading up to the 2nd Annual John Hartford Memorial Festival. Patti and I first met John and our friend Jeff Mankins, at the Yonder Mountain String Band's Harvest Festival, close to home here in NW Arkansaw. We were managing the instrument and songwriting contests for that festival. Jeff and John persuaded us to volunteer. Many words and 800 miles later we met at Bean Blossom, IN, where we would return each spring for the festival, up until pandemic. This article was published at nodepression ezine, that May, 2012. It was the result of several long interviews with John Hotze, a true visionary and trail blazer. Please, scroll down to the bottom of the page and activate the video and listen while you read. It's almost as if John Hartford wrote this for John Hotze, who also loved the river and was a life long friend of John Hartford.
Meet John Hotze, the Man Behind the John Hartford Memorial Festival
(Log In or Sign Up to Follow Contributor)
What do you do when one of your closest friends passes away way too soon, especially a lifelong friend who symbolized what a true free spirit musician is, a real songwriter, a great fiddler, banjo picker, and a wonderful entertainer?
According to John Hotze, a 71 year old entrepreneur, visionary, musician, music lover, serious risk taker, cancer survivor and lifelong friend of the late John Hartford, you throw that man a festival, which is exactly what he did. The first John Hartford Memorial Festival was held at Bill Monroe's famous Bean Blossom Bluegrass Park in Bean Blossom, Indiana, last June, 2011, and the second is coming up at the end of May.
John Hotze' story is far too long to completely cover in this article, but I will elaborate on his colorful, exciting musical odyssey as a teen getting to know John Hartford.
I first encountered John Hotze' presence, unbeknownst to me, while emceeing the instrument contests at the Yonder Mountain String Band's Mulberry Mountain Harvest Festival near Ozark, Arkansas. He was set up about fifteen feet in front of the stage, filming the contests.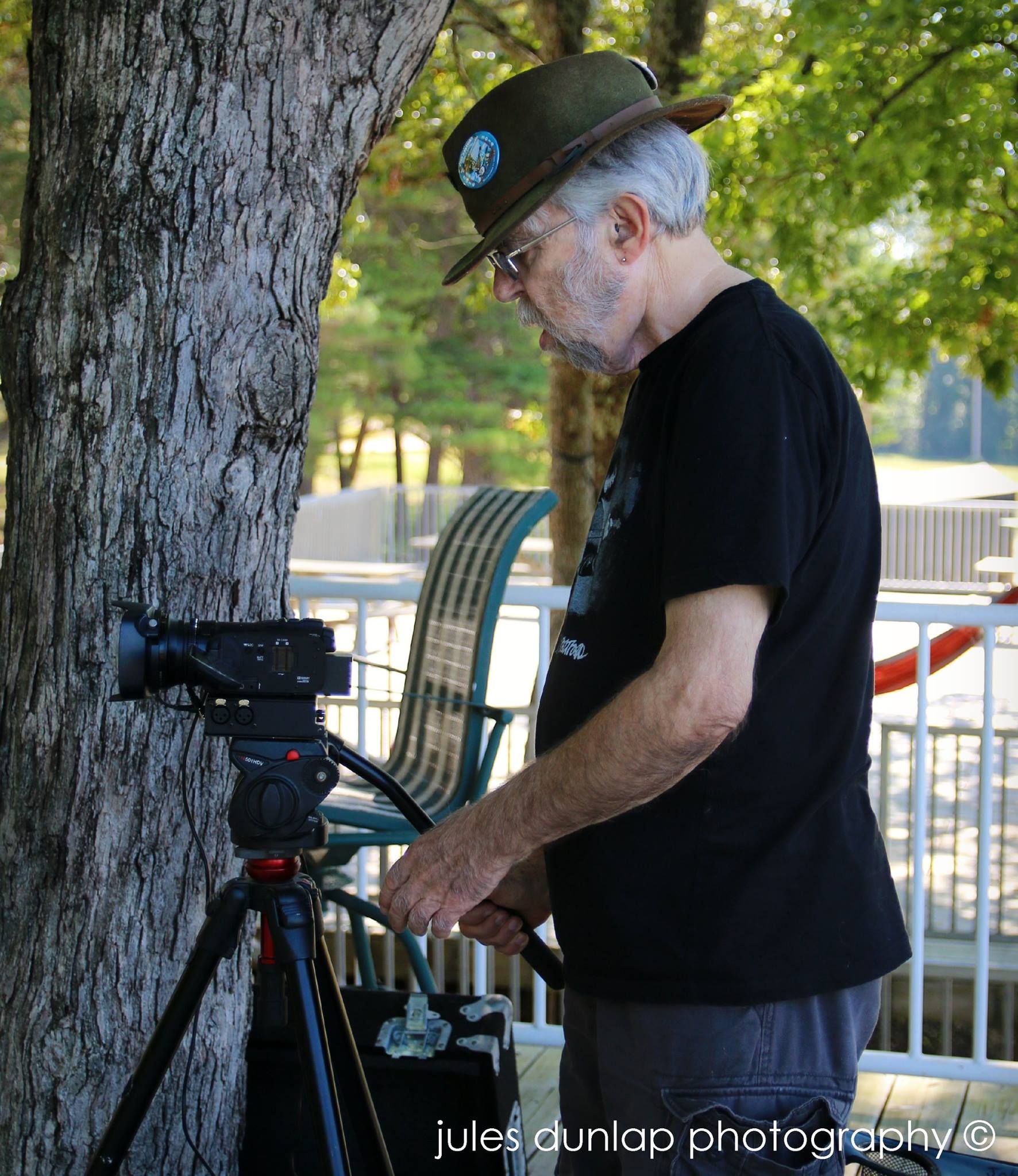 It was after talking to Jeff Mankin, of the Steam Powered Preservation Society website, (thespps.org) who is a good friend of Mr. Hotze and made the trip down to Arkansas with him, that I found out who Mr. Hotze was and what he has been up to. Via email, I feel like we have become friends with a mutual mission, albeit my involvement is just a fraction of Mr. Hotze', to honor, remember and keep alive the memory and music of John Hartford, who died from cancer June 4th, 2001. This year's festival mission statement, written by emcee Cary Allen Fields, broadcaster at WICR in Indianapolis, says "The mission and focus of The John Hartford Memorial Festival is to carry John's legacy and influence forward in perpetuity while celebrating his life, music, and ideals."
So who is this man, John Hotze, and what is his connection to the John Hartford legacy and how do you just haul off and throw a festival? In a recent interview, John Hotze told me a little of his story and association with John Hartford.
Lets go back in time a little. In John Hotze' own words, "My road to Bean Blossom & the Hartford festival started with two young teenagers talking at a corner newspaper stand in Webster Groves Missouri, back in the winter of 1953 as we huddled around a fire, blazing in a 55 gallon garbage can. Times aren't anything like they use to be. I don't know if you ever have watched Leave It To Beaver, Ozzie & Harriet, or Father Knows Best, but these shows really did depict how life was when I grew up. "
John Hotze grew up in St. Louis, as did John Cowan Harford, who would, in the mid sixties, at the urging of Chet Akins, add a "t" to his last name, thus, John Hartford. John Hotze credits his love for music to his mom. She was born in 1900. John grew up with a piano in the house and his folks had him taking piano lessons when he was in 4th grade. He never liked it a whole lot but he stuck with it for a year or two. He also grew up as a young kid with 78 records galore in the house. They were mostly big band music. John Hotze began using his dollar a week allowance to buy pop records at the store a few blocks up the street. John had first started buying pop music: Guy Mitchell, Rosemary Clooney, Jo Stafford, Frankie Lane, Doris Day, Les Paul & Mary Ford.
"Times were simple and games were simple. We played lots of Hide and Seek, Kick the Can, Annie Annie Over, & Fox and the Wolves." John says. As a kid, it was safe for John to wander alone for a couple miles on his bicycle and during the summer it wasn't unusual for him and his friends to play after dark to maybe 10:30, and this was when he was only eight! No way today, folks.
"For some reason right before Hank Williams died, country music caught my ear.  I soon became hooked. There were a couple stations in St. Louis that played country music. I can remember the dj's names. There was Johnny Rion and Skeets Yaney. I remember buying a Johnny Rion tribute song to Hank Williams. I think it may have been called "Heaven Bound Train".
In those days (about 1952) kids had corner newspaper stands where they sold newspapers on Friday & Saturday nights. That's where John Hotze met Paul Breidenbach.
"We had something in common." John says. "I think the two of us may have been the only ones in our neighborhood to have taken a liking to country music. I would spend a lot of Friday or Saturday nights with him up at his stand. We'd talk about songs and singers for hours. Soon we had a dream. Let's go to the Grand Ole Opry."
They were both only fourteen years old but they didn't let that stop them from dreaming and making those dreams come true.
"We got permission from our folks, put our plans in place & made our ticket reservations to the Grand Ole Opry. We always took the bus down to Nashville (from St. Louis!) on a Friday and would get into Nashville Friday afternoon."
Living in this day and age, it's kind of mind boggling to realize that John and Paul would take a bus 300 miles across the country and check into a hotel at 14 years of age. But they did and at the time it didn't seem unusual at all.
The Greyhound bus station was on Broadway, across from the Ernest Tubb record shop within a short walking distance to the Sam Davis Hotel. The Ryman Auditorium was just a block from the hotel and up the hill 2 or 3 blocks was WSM. Nice situation for a couple young kids. "One thing I was asked to do by my mom… give her a safe arrival call."
This was long before cell phones and data plans . Long distance calls were expensive for a 14 year old on a mission. So John's entrepreneur spirit led him to figure out a way to do make those calls for free.
"I would call myself 'Person to Person' collect. My mom would tell the operator that I wasn't available so there was no charge and my mom knew we had arrived safely. We'd get there just in time to get our room in the Sam Davis Hotel and get a fast dinner at Crystal Burgers and then walk up to the National Life & Accident Insurance building that housed WSM radio and Studio C where the Friday Night Frolic and the pre-Opry shows were held. These were free. The Friday Night Folic probably ran from about 6:30 to 9:00 or 10:00 P.M."
John and Paul made this trip about 2 or 3 times a year. John became call-in friends with a late night disk jockey on WSM whose name was Eddie Hill.
"I would always talk to him about when we were coming to Nashville. After awhile, Paul & I found out we could visit him in his studio when he was on the air. I can still remember a couple visits when stars showed up to just shoot the bull with Eddie. One time I remember Audrey Williams stopped in and another time Stonewall Jackson stopped by. The one that really sticks in my head, though, was I had asked Eddie if he knew anywhere that I could find an old Roy Acuff record on the Vocallian label. I was a big Roy Acuff fan. I forgot how he answered me. Probably said, 'ya, those records had been out of print for over twenty years.' A little later, he put on a record and told us he would be right back. He comes back and hands me a Roy Acuff Vocallion record. He pulled it right out of the WSM library.
I couldn't believe it. On another trip, we were talking to him about how we might get up to Dunbar Cave. That's a place that Roy owned and played music at on the weekends. I think it's around 
Clarksville, which is about 40 miles North of Nashville. Anyway, Eddie seemed like he just wanted to look out after us young boys who had traveled alone to Nashville. He winds up buying us round trip bus tickets up the Dunbar Cave."
Eddie Hill, by the way, did do some performing on the Opry. He wasn't a star but he nevertheless did sing there on occasion.
About meeting John Hartford. John Hotze and Paul were on one of their trips to the Opry. John was around 18 or 19 and there to take in the music too. John Hartford was doing very little performing at the time and that was mostly around St. Louis."I'm pretty sure we were probably fifteen. We were up at Studio C.  During a break in between acts, we were just standing around talking and we got to talking with John Hartford. After a little conversation we found he just lived a few miles from Paul and I so  we made arrangements to get together sometime back in St. Louis."
By the time these boys started going to the Opry they were both into bluegrass in a big way. Back then bluegrass wasn't a very well known music genre and when the three of them started talking about bluegrass, "We all caught fire. Actually we had just finished seeing Flatt & Scruggs perform when we started talking with each other. Anyway that was how a great friendship started between Paul, John & I."
John Hartford was addicted to bluegrass and John Hotze fed that addiction. He had a floor model Zenith radio and he taped a lot of the Grand Ole Opry, mostly Flatt & Scruggs and Bill Monroe and shared the music with John Hartford who was eager to learn anything new. John Hotze began playin guitar, as did Paul, at first, to back up John.
"I felt like he played about as good as Earl even at that time." Hotze says.
Paul went on to become a Missouri Ridge Runner, which Mr. Hotze believes was John's first band. John Hotze would set in and even was included in some of the early living room recordings that got airplay on the local radio stations. Part of one of those shows can be heard at the John Hartford website. The trio of friends made trips to the Opry together. It was on one of those trips that John Hartford got them invited over to Earl Scruggs house for an evening, on another visit they saw Flatt and Scruggs at a WSM TV show and Earl drove the boys to the Ryman for the Opry.
In 1960, John Hotze joined the Navy and later that decade, John Cowan Harford moved to Nashville, added that "T" to his last name, and John Hartford became a legacy, introducing hippies to bluegrass and the world to his fine craft of songwriting. Hartford and Hotze drifted in and out of communication the following forty years, but remained close friends up until Mr. Hartford died.
John Hotze went on to found a computer repair business called Micro Innovations. He's been in computer repair for over 40 years. John Hotze works a forty-hour week keeping the desktop computers working for Lutheran Hour Ministries. Last year, John Hotze, at 71 years of age,  launched the 1stannual John Hartford Memorial with no previous festival or music promotion experience. John told me, "I've never been one to play by the book or follow the main stream in my thinking. When I set my mind to doing something, I have a hard time giving up. I'm a risk taker."  John took a big risk and a big hit with his first festival. It's common for festivals to operate in the red for the first several years and this first year was no exception however, comments from festival goers lead me to believe this festival might just be the exception and make a good go of it for this upcoming second year.
Daniel Dillman, who is a key person in helping John Hotze put the talent together and who's father owns the Bean Blossom Bluegrass park says, "putting on a festival had been something I'd wanted to do for awhile. I met John Hotze.  He schooled me on John Hartford. I was already a fan of New Grass and a lot of acts such as Great American Taxi, which John hadn't heard much of, so he turned me onto a lot of the old, and I turned him onto a lot of the new. We came up with the idea and just kept planning and planning. The first year was a real experience, the both of us had no idea on how to put on a festival, so it's still a learning experience for us that we hope to get down and keep the festival going for years to come."
The rest of the planning, working out the details such as printing, promotion, advertising, and financing was all done by John Hotze. "I just winged it. My close friends here in St. Louis now tell me that they honestly didn't think I was really going to make it happen." Last year's festival included headliners such as Tim O'Brien, Danny Barnes, Larry Keel & Natural Bridge, Jamie Hartford, Greensky Bluegrass, Great American Taxi, Chatham County Line, Rodney Dillard & The Dillard Band, to name a few.
I asked  John recently what kind of mood he hoped to achieve at this festival.
"The mood I hope to achieve at the Hartford fest is a party mood. A mood of having lots of fun. I think that's what John would like. He would be all over the campground picking and jamming all night long. I would like to see the jammers get up and dance to the jamgrass and other to get up and flatfoot when some good fiddlin' goes down. I'd like to hear lots of laughter." 
Around seven hundred folks turned out for this event. This year, John hopes to see at least a thousand and believes around three thousand would be ideal and set the stage for a self-sustaining festival.
"I never started this venture for money and I would be very happy to recoup my losses over the next few years and let it just sustain itself both to honor John and provide a venue for more performers.
My vision is to narrow the scope of the festival to be more Hartford centered, that is booking bands & entertainers that have been greatly influenced by John, ones that performed and were good friends of John, such as Bela Fleck, Sam Bush, Tim O'Brien, and many more, and entertainers that also cover John's songs."
Visit hartfordfest.com for artist info and ticket info.
Ernie Hill
first published May 4th, 2012 at nodepression.com